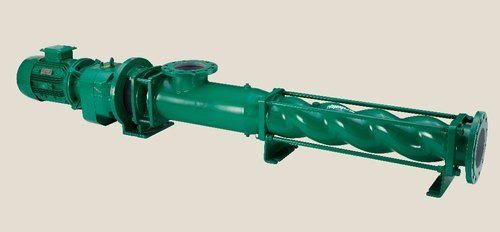 Product Specifications
Rotor Pump

500 m3/hr

40 bar

Stainless Steel
Product Description
Boasts of a heavy-duty construction and capacity to pump the hard to handle fluids.
Its constriction is modular and is incorporated with several next-generation pumping elements.
Double sealed Cardan Universal Joints are offered for finer performance as well as longevity.
Bare shaft as well as close coupled configuration is available.

Single Stage Pump:


Cost effective mechanical devices for heavy-duty applications.
Demanded for both Sewage & Effluent Treatment applications.
Efficient use of extended rotor & stator geometry
Ensures lower rubbing rate

Multi-Stage Pump:

Configured for both continuous as well as intermittent works.
Efficient performance in fluid handling applications.
Highly beneficial for food, wastewater, chemical and other industries.

Material Options:


Chloro-Sulphonated Rubber, NBR
Rotor: Tool Steel, Case Hardened Steel, Alloy Steel, Stainless Steel
Coupling Rod :Alloy Steel, Stainless Steel
Wettable Housing Components: Cast Iron, Cast Stainless Steel, Fabricated Steel, Fabricated Stainless Steel
Stator: Natural, Nitrile, Fluoroelastomer, Aflas, High Nitrile, EPDM,
Shaft : Alloy Steel, Stainless Steel
Other Exotic Materials: Duplex, Super Duplex, Alloy 20, Haste alloy
Rotor Surface Coatings: Ceramic Coatings, Tungsten Carbide, Hard Chrome Plating
Protective Coatings: Rubber Lining, Epoxy Coatings
Product details
| | |
| --- | --- |
| Pressure | 72bar |
| Max Flow Rate | 500 m3/hr |
| Brand | Roto |

Get in touch with us